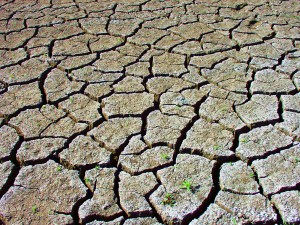 I received an email from one of my tenants last week about cracks developing in their yard, due to the drought. I'm used to seeing some small cracks in yards in Austin, TX, especially this summer. For any of you non-locals, we have been having record heat, 80+ days of triple digit heat, and about a thimble-full of rain. So, when I went to inspect the property on Friday, I was expecting some small cracks in the yard. I was not prepared for what I saw.
This particular house was located in Southeast Austin, not too far from the airport. It's a part of town that has a lot of clay in the soil. The yard had cracks 3-5″ deep that appeared to go down over a foot. These are good tenants, and I know that they have been watering the lawn (the grass was semi-green; without pretty steady watering, it would have the color and texture of Frosted Flakes…). The lack of moisture had caused the clay in the soil to contract significantly.


I have a crew going out to the house this week to fill in the cracks in the yard, as well as under the concrete flatwork. Doing a cruise of the neighborhood, I saw many other homes with dirt piles in the front yard or driveway, as other homeowners were trying to combat the effects of the drought.


The longer-term issue, outside of a few bucks worth of dirt and labor, is the potential for serious foundation problems. This neighborhood, and others built on clay soil in many parts of Austin, is likely to see houses with foundation problems or cracked slabs at some point in the not distant future, especially considering the climatologists are saying we will be in the drought until 2020… As the clay soil dries out, it contracts. That can cause the whole structure to sink, or, if one side contracts more than the other, the slab can crack. This is why you are supposed to water your foundation.


This house will stay at the top of my inspection list for the next several months, to ensure that major problems are not developing.